White House Press Secretary Sean Spicer is married to his wife Rebecca Miller Spicer since 2017. They have been happily married for 13 years already and they have two children who lives in Virginia.
Sean Spicer who was the former spokesman for RNC is now center of media attraction due to his angry reaction to media and his comment like "Donald Trump doesn't own a bathrobe".  Also due to his lies like Trump's inauguration had the largest crowd ever for any presidents.
Of course his claims were without any legit reasons and it was falsified by the inauguration video.
Sean Spicer's wife Rebecca Miller Spicer is a forms media person. But now she is totally into public relations and politics. Previously Sean's wife worked as the producer of WJLA-TV in Washington D.C. She was also a producer for KTRK-TV for 2 in Houston.
@jmeacham making #Sewanee proud with his new book about #GeorgeBush41. #DestinyAndPower #YSR @MaxAngerholzer pic.twitter.com/kyCJqTeCsl

— Rebecca Spicer (@RebeccaMSpicer) November 21, 2015
Rebecca Miller Spicer worked in media for about 12 years.
The 6 p.m newscast produced by Rebecca in Washington was a big hit and received a nomination for Emmy Award. She worked in TV stations like New Haven, Birmingham, Ct and CNN. Her career began as an intern in Nashville, Tennessee at WSMV.
Rebecca stopped working in TV after her marriage with Sean Spicer in 2004.
Spicer was working in television she married Sean Spicer in 2004. She is also known for working in the White House at the time of President George W Bush. She was associate director for the communications from 2006-2007. One of her assignment was to produce televised events for President Bush.
Currently, she is the public relation officer in one of the beer industry. She is Senior Vice President and Communication & Public Affairs at National Beer Wholesalers Association.
@RitaCosby asks @RebeccaMSpicer what kind of beer she likes.The one in my hand.@CNN @LongViewGallery #WHCA #nerdprom pic.twitter.com/JCcWDPZ8Xi

— Hollywood on Potomac (@HollywoodonThe) May 1, 2016
In one of her biographies it's been stated that she is a chief communication officer and her work manage the communication strategy for Trade associations. It represents 3,300 licensed beer distributors who are independent. She was hcndling membership, external communications and executes strategies.
Cheers to local news legend @abc7pege, turning in her camera after 42 years… And still smiling! #wjla #lifeafterTV pic.twitter.com/hOpMeNzDQs

— Rebecca Spicer (@RebeccaMSpicer) January 19, 2016
She is also one of the BOD in National council of Adoption.
Rebecca Spicer claims herself as the mom of the year in her twitter account.
Sean Spicer's wife has a degree in Telecommunications from University of Indiana.
Great day with @salarmynca & 2015 #AngelTree distribution. Bringing a bright Christmas to 6,000 kids in DC! pic.twitter.com/nF4KmZk3s2

— Rebecca Spicer (@RebeccaMSpicer) December 18, 2015
In his first press instructions since Donald Trump was introduced, Spicer went to prompt war with the press, indignantly blaming the media for unscrupulous scope. He was disturbed that a Time Magazine correspondent incorrectly said that a bust of Martin Luther King Jr. was expelled from the White House. The journalist adjusted the report.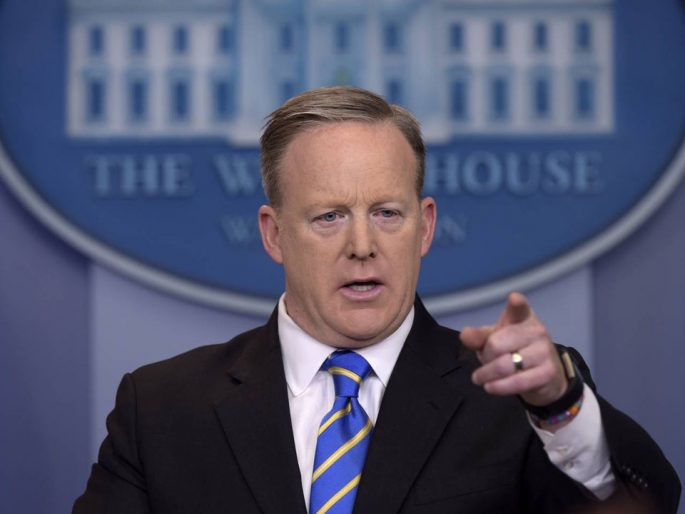 He additionally bludgeoned the press, asserting that Trump's initiation group were the biggest ever, however numerous in the media have challenged this Spicer guarantee and in addition others. Airborne photographs obviously demonstrate bigger group for Barack Obama, and Spicer additionally made other false claims, for example, that the Trump introduction was the first occasion when that ground covers were utilized.
His preparation was outstanding for how irate it was immediately; Trump counselor Kellyanne Conway then got into a debate on Meet the Press, contending that Spicer was utilizing "elective truths." Host Chuck Todd reacted that they were deceptions, and Spicer has been scrutinized by other previous press secretaries.
Be that as it may, at a public interview on January 23, Spicer struck a more mollifying and logical tone with the press, saying, that his "expectation is never to mislead you" and griping that the "default story is constantly negative," which he called "disturbing."