Merrick Garland is the incumbent Chief Judge of the United States Court of Appeals for the District of Columbia Circuit who assumed office on February 12, 2013 as the successor of David Sentelle. Garland is also a Judge of the United States Court of Appeals for the District of Columbia Circuit since March 20, 1997.
Early Life and Education
Merrick Garland was born on November 13, 1952. Although born in Chicago, he grew up in the suburbs of Lincolnwood where he went to Niles West High School. In 1970, Garland graduated as a valedictorian, a Presidential Scholar, and a National Merit Scholar.
After Niles West High School, Merrick joined Harvard University for his undergraduate education in social studies. Interestingly, he was the valedictorian of Harvard Class of 1974. Completing undergraduate education, Merrick entered the Law School at Harvard and earned a Juris doctorate degree in 1977.
Personal Life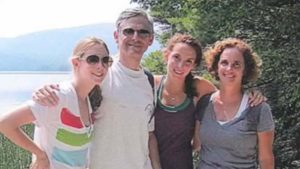 Merrick Garland is married to Lynn for almost three decades. The couple has two children named Rebecca and Jessica. Both of Garland's daughters went to Yale University.
https://www.youtube.com/watch?v=Pz-A1qIicco
 Career
After graduating from a law school, Merrick Garland became a law clerk at the US Court of Appeals for the Second Circuit. Serving in the position for a year, Garland became a law clerk to William Brennan Jr. in the Supreme Court and worked there for a year. In 1979, he was appointed as Benjamin Civiletti, the incumbent Attorney General's assistant. Garland's appointment to the office ended after Jimmy Carter left White House in 1981.
Out of public service, Merrick joined the private law practice firm, Arnold & Porter. He remained with the firm for eight years and became a partner for four years i.e. from 1985 to 1989. Subsequently, Garland returned to government service as an Asst. US Attorney for the District of Columbia. Three years later, he made a brief presence at his former law firm, Arnold & Porter. To follow up, Garland was appointed as deputy assistant attorney general under Clinton administration.
On January 7, 1997, Merrick Garland was nominated to the position of Judge of the US Supreme Court of Appeals for the DC Circuit. Confirmed by the Senate with a 76 – 23 vote, Garland assumed office on March 20, 1997 as the successor of Abner Mikva. On February 12, 2013, he was promoted to Chief Judge. With moderate centrist views, Garland has handled administrative, environmental, criminal, whistleblower and national security issues over a period of time in his career.
Donald Trump and Merrick Garland
On March 16, 2016, Merrick Garland was named President Obama's nominee for the Supreme Court Justice. Unfortunately, the nomination from President expired as the 114th congress got constitutionally dissolved after 293 days – although Garland was supposedly a perfect and experienced candidate for the position. Subsequently, President Donald Trump nominated Neil Gorsuch for the same position in January 2017.