Ted Cruz is the incumbent US Senator from Texas who has been in the office since January 3, 2013 as the successor of Kay Bailey Hutchinson. Formerly, he was the Solicitor General of Texas from January 9, 2003 to May 12, 2008.
Early Life and Education
Born to father Rafael Bienvenido and mother Eleanor Elizabeth on 22 December 1970, Ted Cruz was raised in Calgary, Alberta. His father is an immigrant from Cuba who settled in Canada. Later, the couple moved to Houston, Texas where Cruz attended Faith West Academy and Second Baptist High School.
Graduating as a valedictorian from high school, Ted Cruz joined Princeton University for undergraduate studies in public policy. After Princeton, Ted entered the famous Harvard Law School for a Juris Doctorate degree.
Personal Life
Ted Cruz is married to Heidi Nelson since 2001. They met during the 2000 Presidential Campaign of George W. Bush. The couple has two daughters: Catherine and Caroline Cruz.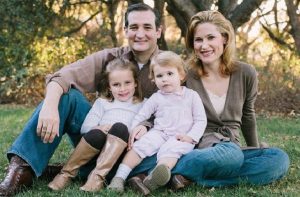 Professionally, Heidi Cruz is an investment banker for Goldman Sachs.
Career
As a law graduate from Harvard, Ted Cruz became a public law practitioner for the US Court of Appeals for the Fourth Circuit. Later, he became a private law practitioner for Cooper & Kirk, LLC. Having gained substantial experience in the field of law, Cruz joined Bush administration as a domestic policy advisor. As the Bush campaign saw a victory in the 2000 presidential election, Ted Cruz was appointed to the post of Associate Deputy Attorney General. In 2003, he was promoted to Solicitor General of Texas by Greg Abbott, incumbent Attorney General of Texas.
Finishing up his term in Texas government service, Ted Cruz went back to private law practice as an employee at Morgan, Lewis & Bockius LLP. After four years of service at Morgan, Lewis & Bockius LLP, Ted Cruz decided to run for the US Senate. In the Republican primary election, Ted Cruz came second with 34.2% votes against David Dewhurst's 44.6% votes. As the run-off elections were held, Cruz saw an unexpected victory with 56.8% votes. In the 2012 US Senate Election, Republican nominee Ted Cruz defeated Democrat candidate Paul Sadler with a 56.6%-40.5% margin.
https://www.youtube.com/watch?v=xMvcftRMvjc
As Senator, Ted Cruz was involved in numerous legislation bills, debates, and discussions. As of 2013, he strictly opposed Obamacare and delivered a 21-hour speech in order to pass a budget bill. Besides, Ted Cruz has worked in several committee assignments: Committee on Armed Services, Committee on the Judiciary, Committee on Commerce, Science and Transportation, Committee on Rules and Administration and Special Committee on Aging. Nevertheless, Senator Cruz also criticized President Obama's policies on various issues of national concern.
Although Ted Cruz was expected to bid for the presidency as early as 2013, he officially announced the intention on March 23, 2015. During the tight race against Donald Trump and other fellow Republicans, Ted Cruz managed to gain 484 delegates and 7.8 million popular votes. On May 3, 2016, Cruz suffered a heavy loss against Donald Trump in the Indiana Primary. As a result, he announced his withdrawal the following day. After the Republican National Convention, Ted endorsed Republican nominee Donald Trump for President.
Donald Trump and Ted Cruz
Throughout the Republican race, Ted Cruz and Donald Trump had an unconventional and abusive rivalry to each other. While Trump commented on Cruz's wife Heidi, Cruz commented on Trump's business failures and other personal matters.
As Trump took office on January 20, the relationship between the two Republicans seems to have shifted a bit. Cruz praised Donald Trump's Supreme Court nominee; his strategy of nominating young justices; and his Congress Address in March. Since recently, Cruz has been appealing for strict US military actions against Syria.