Linda McMahon is professionally a businesswoman associated with World Wrestling Entertainment (WWE). She is engaged in American politics since 2009. In December, McMahon was nominated to become the next Administrator of the Small Business Administration.
Early Life and Education
Linda McMahon was born on October 4, 1948, to father Henry and mother Evelyn Edwards. Since both of her parents were Marines, McMahon grew up in a disciplined family abided by the principles of conservative baptism.
For schooling, McMahon went to New Bern High School and then went off to study the French language in East Carolina University.
Personal Life
Linda McMahon and her husband Vincent McMahon have an interesting history behind. They met when Linda was 13 and Vince were just 16. Then on, Vince's family became a family friend to Linda's parents. Hence, Vince was always around in every ups and down of Linda.
Just after graduating from high school, Linda married Vince McMahon. They were just 17 and 20 at that time. Now, the couple has two children and six grandchildren – three from daughter Stephanie McMahon and three from son Shane McMahon.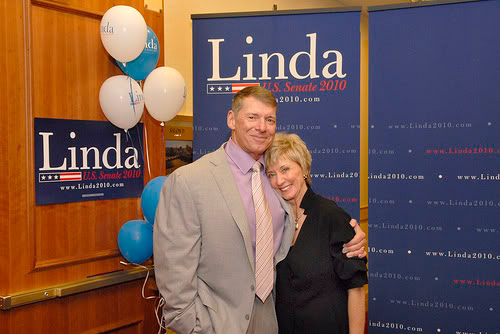 Career
As the McMahon couple moved to Gaithersburg, Maryland, Linda began working in Covington & Burling, especially as a French translator. Although the couple was well educated, they couldn't earn much to live a middle-class life. They even went bankrupt. So, McMahon was compelled to work 90 hours at a quarry.
Going through financial hardships, the McMahon couple decided to commence her own business in the wrestling world. Starting in 1979 by purchasing Cape Cod Coliseum, the couple moved on to buy Capitol Wrestling in 1982. Now, the couple was the sole owner of a regional wrestling company.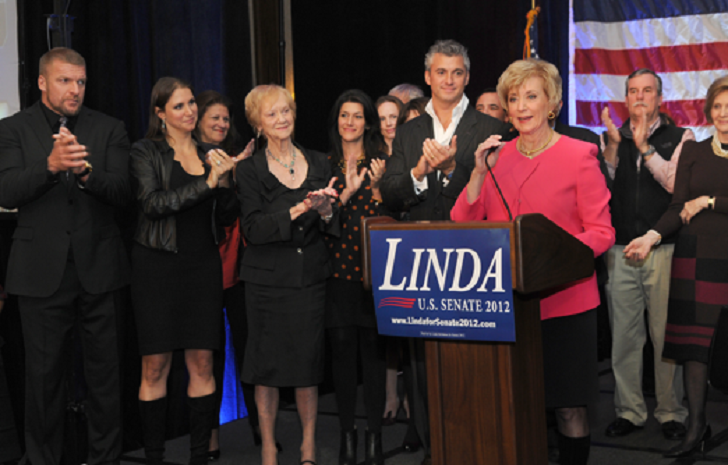 After founding Titan Sports in 1980, McMahon subsequently became President and CEO in 1993 and 1997 respectively. Consequently, the company progressed to develop WWE product merchandising all around the US. She also negotiated a TV deal with Viacom.
With aims to attract younger children, McMahon's leadership strategized to change WWE's parental guidelines. Hence, the much-loved sport became legally available for most age groups. Alongside a change in parental guidelines, WWE banned many obscene scenes such as blood and sex. While this strategy was appropriate for children, the huge chunk of WWE's audience – the older people – felt unconsidered.
By the time of McMahon's WWE career's peak, most of the government regulations on wrestling were lifted off. That meant a higher chance of spreading the business and attracting more spectators. McMahon's lucrative tenure provided WWE with an unprecedented amount of tax credits. Likewise, she also started trademark ideas such as 'Get R.E.A.L' and 'Smack Down your vote'.
Besides WWE, McMahon is also heavily involved in philanthropy. In 2008, the McMahon couple donated $8 million to a few post-high school institutions. Likewise, McMahon also backed Special Olympics as Connecticut Governor's Council. In addition, she has been in alliance with numerous other organizations such as Sacred Heart University, Starlight Foundation, and USO.
Political Career
Linda McMahon first entered the world of American politics as a member of Connecticut Board of Education in 2009. In the following year, McMahon faced her Republican and Democrat fellows for US Senate. Seemingly perceived as inexperienced, McMahon lost the election to Democrat Richard Blumenthal by 11%.
Even in the second run for Senate, McMahon failed to acquire enough votes to win Democrat Chris Murphy. McMahon just received 43% votes from Connecticut voters. After 2012 loss, McMahon never tried to run again in any major political positions. However, she remained heavily active in 2016 Presidential Campaign.
Donald Trump and Linda McMahon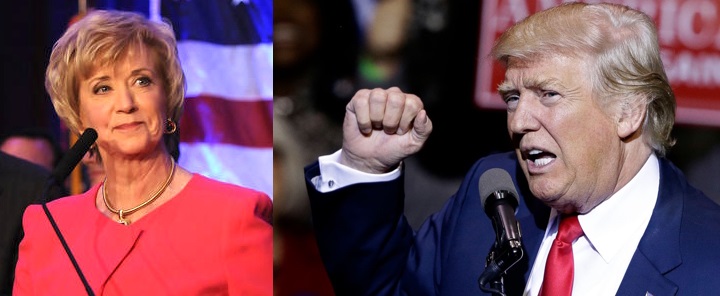 Donald Trump and Linda McMahon have a long history between them. Trump's property Trump Plaza hosted WWE Wrestle Mania in 1988 and 1989. Likewise, Linda's husband and Trump faced each other in a 'Battle of Billionaires'. Hilariously, Trump got to shave Vince's head as agreed.
After such close ties between the business tycoons, Trump got recognized as a member of WWE Hall of Fame. On the other side, McMahons continually donated around $5 million to Donald Trump Foundation. Even in 2016 Presidential election, McMahon contributed $6 million to MAGA PAC.
As a tribute to the long-standing relationship and Linda McMahon's expertise, Trump nominated her to become the next Administrator for Small Business Administration.
https://www.youtube.com/watch?v=Vk6jzo3yI14