Lee Greenwood is a music artist by profession who is widely known for his patriotic song 'God Bless the USA'. So far, Lee has released 20 plus albums and numerous singles, 35 of which have appeared on Billboard music chart. Greenwood was a member of the National Council on the Arts from November 2008 to November 2014.
Early Life and Education
Lee Greenwood was born on October 27, 1942 in South Gate. After his parents separated, Lee and his mother moved to Sacramento. The information on Greenwood's educational background is not available in the media.
Personal Life
Lee Greenwood is currently married to Kimberly Payne. The couple has two children: Dalton and Parker Greenwood.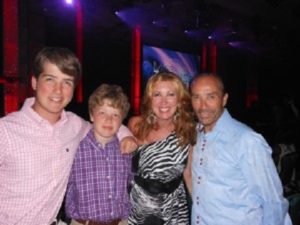 Career
Lee Greenwood was always passionate about music. By the age of 7, he had started giving church performances. Then, at the age of 20, he founded his own band and named it The Appollos. The band became quite successful after appearing in Las Vegas-based casinos and hotels. They also recorded a few songs in association with Paramount. The band broke up in the beginning of 1970s. As a result, Lee joined the Chester Smith Band and soon made his first ever television appearance.
While Lee was in Reno, Nevada in 1979, he met Larry McFaden who was the bandleader of Mel Tillis. Soon after the meetup, Greenwood joined Mel Tillis and worked with them until 1981 when he was signed by Nashville division. Soon, a single was released under the MCA label which came in top 20 of the billboard charts. Some of his other singles that were charted number one are:
Somebody's Gonna Love You
Going, Going, Gone
Dixie Road
I Don't Mind the Thorns (If You're the Rose)
Don't Underestimate My Love For You
Hearts Aren't Made to Break (They're Made to Love)
Mornin' Ride
In the 1980s, Lee wrote and recorded his signature song 'God Bless the USA'. The song saw widespread fame and success in the United States. It gained rejuvenated fame during the Gulf War and 9/11 Attacks. In 1996, Lee Greenwood opened a theater in Sevierville, Tennessee and named it the Lee Greenwood Theatre. The theater hosted a large number of guests for five seasons and closed after Lee decided to start touring.
Lee Greenwood is one of the prominent singers who performed during Trump's Inaugural in January. On 19th January 2017, Greenwood joined Make America Great! Welcome Celebration and sang 'God Bless the USA'. Donald Trump frequently used the song during his MAGA PAC.
https://www.youtube.com/watch?v=Y-jaEsLJQRM
Lee also introduced Trump in one of his campaign trail: