Barbara Walters is an American television journalist who is widely recognized her performances as the host of Today, 20/20and ABC Evening News. Walters is also a writer.
Early Life and Education
Barbara Walters was born on September 25, 1929 to father Louis and mother Dena in Boston, Massachusetts. As a child, she had to move between several schools to complete high school education. For early education, Walters went to Lawrence School. As the family moved to New York City, Walters joined Ethical Culture Fieldson School. Subsequently, she had to join a school in Miami, Florida and back to New York for high schooling in Birch Wathen School.
Graduating from high school in 1947, Barbara joined Sarah Lawrence College for an undergraduate degree in Sarah Lawrence College.
Personal Life
87-year-old Barbara Walters has already married four times. In 1955, she tied the nuptial knot with Robert Henry Katz. The couple couldn't stick together for long, hence leading to divorce in 1957. In 1963, she married Lee Guber who was a theatrical producer. The couple had a daughter named Jacqueline. Even so, they parted their ways in 1976.
After the second divorce, Barbara met Merv Adelson. They quickly fell in love and decided to marry in 1981. Three years later, the couple got divorced. Interestingly, they came back together in 1986 and remained in the marital relationship until 1992. Reportedly, Walters dated former Federal Reserve Chairman Alan Greenspan.
Career
Barbara Walters' professional career as a journalist took pace when she joined NBC as a writer and a researcher for The Today Show. Soon, she became the show's official Today Girl who handled weather and few other elements of the show. As the time went by, Walters was proposed to become the co-host of the show. Unfortunately, because of host Frank McGee's disagreement, she couldn't join the show. In 1974, following the death of McGee, Walter became the first female co-host of The Today Show.
After working for The Today for two years, Barbara Walters joined ABC as the host of ABC Evening News in 1976. Remaining in the position for next two years, Walters started 20/20. First released on June 6, 1978, Barbara Walters worked on the show until 2004 i.e. 26 years. In 1997, Walters joined The View as its co-host. In 2014, she decided to resign and started appearing as a guest co-host in the program. Since 2016, she has been the executive producer for the same show.
Awards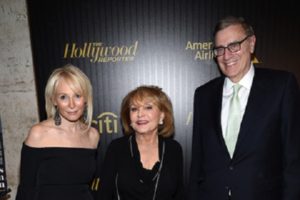 1985: Paul White Award, Radio Television Digital News Association
1975 Award for Daytime Emmy for Outstanding Talk Show Host (Today)
2003 Award for Best Talk Show (The View)
2009 Award for Daytime Emmy for Outstanding Talk Show Host (The View)
2009 Award for Best Talk Series (The View)
1998 Lucy Award
Books
How to Talk with Practically Anybody about Practically Anything, 1970
Audition: A Memoir, 2008