Last updated on October 26th, 2018 at 11:21 am
Khabib Nurmagomedov is a Russian professional mixed martial art artist. He has never lost a fight and is the first-ever Russian to win the UFC title. He has 27 wins and is a two-time Combat Sambo World Champion. Currently, he holds the longest undefeated streak in MMA.
The Early life of Khabib Nurmagomedov
 

View this post on Instagram

 
Khabib Nurmagomedov was born on September 20, 1988. He was born in the village of Sidi located in Tsumadinsky District of the Dagestan ASSR. Later, when he grew older, he moved to Kiev, Ukraine. There he trained at Combat Dobro. He has an older brother named Magomed and a younger sister named Amina. He spends his childhood with his siblings and cousins. His father converted the two-story building's ground floor into a gym after they moved to Kirovaul from Sildi, Tsumadinsky District.
He grew interested in Martial Arts after he watched students training at the gym. Watching that, he started wrestling at the early age of 8. He was trained by his father Abdulmanap Nurmagomedov. His father was a decorated athlete and a veteran of the Army. Abdulmanap had also begun wrestling from an early age. His family moved to Makhachkala in 2001. In Makhachkala, at the age of 12, he learned wrestling and at the age of 15, he learned judo. At the age of 17, he began training sambo under his father. Before focusing attention on mixed martial arts, he would get into street fights.
The Career of Khabib Nurmagomedov
Khabib Nurmagomedov made his debut in MMA in September 2008 and secured 4 wins within a month. He won the inaugural Atrium Cup tournament at Moscow in the same month. Khabib won 12 matches in 3 years in which he won at his M-1 Global debut in 2009. He went to compete for the ProfC promotion and two years later, competed in seven fights. Winning each and every match he attracted the everyone. He caught the attention of the Ultimate Fighting Championship (UFC) having an impressive record of 16 wins and no losses in every match. He signed 6 fight agreements with UFC entering the lightweight division. In early 2012, he fought his debut match against Kamal Shalorus in which he won in the third round. He had to cancel several matches due to injury and several health issues between September 2014 and 2015.
they talk about me when im injured, but I don't hear them when im healthy, Where are they? @ufc pic.twitter.com/tk8jyrwCD6

— khabib nurmagomedov (@TeamKhabib) November 24, 2017
But, he made his comeback with a win in 2016, against newcomer Darrell Horcher at UFC. He fought against Michael Johnson and won in the third round with submission from the opponent in November 2016. It was announced on August 3, 2018, Khabib will fight against Conor McGregor on October 6 in Las Vegas. Khabib won the event in the fourth round with submission from the opponent in a large dominance performance.
The Personal life & Net worth of Khabib Nurmagomedov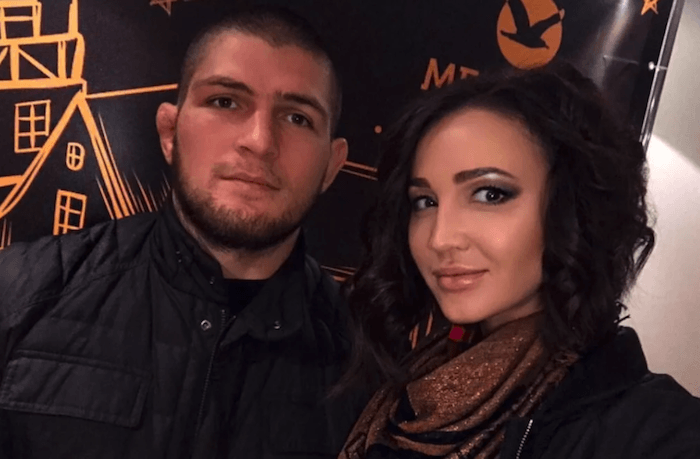 Khabib Nurmagomedov is a married man. He got married in June 2013 and has a daughter and a son. But the name of his wife and children are still unknown. He can speak multiple languages which include Avar, English, Russian, Turkish, and Arabic.
Khabib Nurmagomedov's estimated net worth is $2 million. His net worth is estimated to grow in future as he is an active fighter.
Facts about Khabib Nurmagomedov
He supports Real Madrid football club.
His cousin is also a mixed martial artist.
Khabib Nurmagomedov is also called "The Eagle".