Quick Info about Kathrine Rose Miller
Full Name

Kathrine Rose Miller

First Name

Kathrine

Middle Name

Rose

Last Name

Miller

Born Name

Kathrine Rose Miller

Birth date

04/10/1991

Birth Place

Fort Lauderdale, Florida, US

Height

1.64 m

Eye Color

Brown

Zodiac Sign

Capricorn

Nationality

American

Ethnicity

White

Profession

Political Advisor

Wife

Stephen Miller

Net Worth

Under review

Weight

55 kg

Age

28

Dating

NA

Engaged

Married

Parents

Glenn Waldman and Sheryl Waldman

Twitter

https://twitter.com/VPComDir
Kathrine Rose Miller is an American Political advisor. She is an American government appointee who has served as press secretary to vice president of the United States Mike Pence.
Early Life
Miller was born in Fort Lauderdale, Florida in 1991/92. Talking about her early education academics, she attended Cypress Bay High School in Weston, Florida. She graduated from Cypress Bay High school in 2010. Miller received her degree BA from the University of Florida where she was active in the student government's Unite Party. She did her Bachelor's degree in Agriculture Economics.
Following her graduation, in 2012, she was involved in a scandal about the destruction of hundreds of copies of the school's newspaper after it endorsed an opposing student government candidate. For her higher studies, she attended George Washington University where she acquired a master's degree in public administration.
Career
Getting to know about her professional career, she first started to work as a press assistant for the National Republican Senatorial Committee. She also worked as the press secretary for Senator Steve Daines. Moreover, Miller served as a spokeswoman for Senator Martha McSally. And then later on she joined the staff of the United States Department of Homeland Security during the tenure of Secretary Kirstjen Nielsen. She is the press secretary to Vice President Pence since October 1, 2019.
Personal life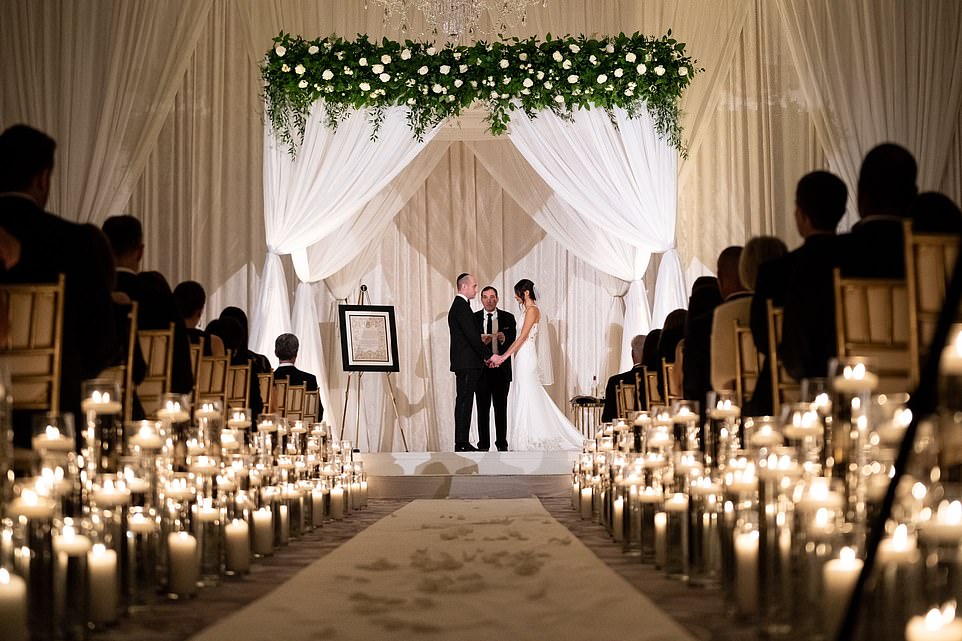 Miller is the daughter of attorney Glenn Waldman and Sheryl Waldman. Talking about her marital status, she got recently married to Stephen Miller Senior Advisor to President on February 16, 2020. They were dating since she was appointed to the vice president's office. Mr. Miller is also Donald Trump's lead speechwriter in addition to Senior Advisor. He is among the longest-serving White House staffers after working on the 2016 campaign. According to her statement, she is pregnant and expected to have a child. She exercises Conservative Judaism.
Net worth
According to various reports, there are no official statements or any sort of details regarding the net worth of Miller. There's no doubt she has fine earning from the White House and also appointed as a special assistant. Being the wife of Stephen Miller, she has remarkable net worth and it's very hard to predict as there are no signs of revealing.
Facts & updates
Recently Miller was tested positive with COVID-19 as this pandemic getting all over the world. On May 8, 2020, President Donald Trump announced that she had tested positive for COVID-19. Being positive for COVID-19, the president said that he had no contact with her but she had contact with Vice President Mike Pence. It was during a meeting in which Republican members of Congress gathered together without wearing face masks. According to CNBC, Miller was asymptomatic corona positive, and also the White House official told she had been showing symptoms. But soon she announced that she had again tested negative and recovered from COVID-19. She has also announced that she was pregnant during the infection of the virus. She is now back to work in the White House.
Still being a university student, she was involved with other students for throwing away thousands of school's newspapers. Though she wasn't punished in this charge and got left out for the incident. She had a history regarding her harsh comments over migrants. Reportedly, she was believed to be a key asset for election because she had the ability to handle intense environments.