John Roberts is the incumbent Chief Justice of the United States who succeeded William Rehnquist on September 29, 2005. Formerly, Roberts was Judge of the United States Court of Appeals for the District of Columbia District.
Early Life and Education
John Glover Roberts was born on January 27, 1955 to Rosemary and John Glover Sr. Raised in Buffalo, New York and Long Beach, Indiana, Roberts went to Notre Dame Elementary School for early education. After Notre Dame, he joined La Lumiere School in La Porte.
Completing high school education in La Porte, John went to Harvard College for an undergraduate degree in history. Later, he joined Harvard Law School and graduated in 1979 as a magna cum laude.
Personal Life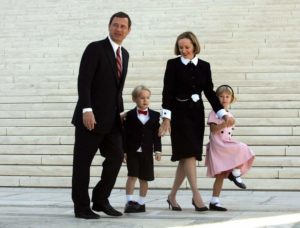 John Roberts is married to Jane Sullivan since 1996. The couple doesn't have children of their own but has adopted two: John and Josephine Roberts.
Roberts is worth $6 million and currently earns more than $250k per year as a salary.
Career
Graduating from Harvard Law School in 1970, John worked as a law clerk in the Second Court of Appeals for Judge Henry Friendly. A year later, he joined the US Supreme Court to work alongside Justice William Rehnquist. Subsequently, in 1981, he joined the incumbent Attorney General as his assistant. Then, in 1982, Roberts was appointed as associate counsel to the Republican President Ronald Reagan.
Leaving White House in 1986, John Roberts entered the law market as a private law practitioner in Hogan & Hartson. Three years later, he left the office to joined Bush administration as Principal Deputy Solicitor General. During his time alongside President George H. W. Bush, John Roberts was nominated to the US Court of Appeals for DC Circuit. However, as the nomination expired, Robert returned to Hogan & Hartson. While in the firm, Roberts handled numerous high-profile cases including United States v. Microsoft.
As George W Bush's administration started in 2001, Roberts was appointed to the office of Judge of the US Court of Appeals for the District of Columbia Circuit. Following the approval on May 8, 2003, John Roberts assumed office on June 2, 2003. Two years later, he was nominated to succeed Justice Sandra Day O'Connor. However, as the Chief Justice William H. Rehnquist died, John's nomination for Justice was withdrawn and submitted for Chief Justice of the United States. On September 29, 2005, he was confirmed by the Senate with 78-22 votes.
In 2006, John Roberts ruled a prohibition in the police search of homes if one of the occupants objects and the other consents. Likewise, in 2016, he tweaked the fourth amendment in order to allow police to arrest and search a person with a legitimate warrant. Also, John ruled that home seizure would be illegal if prior notices hadn't been sent to the owners. This outcome emerged after the Jones v. Flowers case in 2006.
John Roberts has always voted to uphold the Partial-Birth Abortion Ban Act. Although the stand has been criticized, Roberts refuses to comment on it. Similarly, he tends to rule against educational institutions who allocate students to schools based on their races in order to maintain integrity. Also, in 2007, he interpreted the Free Speech by ruling that school-sponsored activities are not allowed to practice advocacy of drug use. Likewise, in 2010, Chief Justice challenged the laws on animal cruelty. Although a conservative justice, John Roberts voted for upholding Patient Protection and Affordable Care Act in 2012. This particular thing made people question his judicial philosophy.
On January 20, 2009, John Roberts administered the oath taking part of Barack Obama's inauguration. Reportedly, John inserted an out-of-order word 'faithfully' in the 35-word oath. The oath was repeated in the White House Map Room with reporters as witnesses.
Donald Trump and John Roberts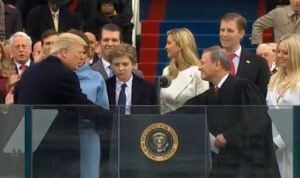 As the tradition goes, Donald Trump was sworn into the office of President of the United States by Chief Justice John Roberts.
As of now, people have been expecting to see John Roberts speak up against Donald Trump. However, John still maintains a neutral policy and looks forward to upholding Supreme Court's conservative philosophy.