Carry Owens is the widow of Senior Chief Petty Officer William Ryan Owens who died on January 29, 2017 in a Navy SEAL attack in Al Bayda of central Yemen. Ryan Owens is the first American soldier to die after Donald Trump assumed office as Commander-in-Chief.
Personal Life
Carry Owens was married to William Ryan Owens until his death on January 29, 2017. The couple has three children.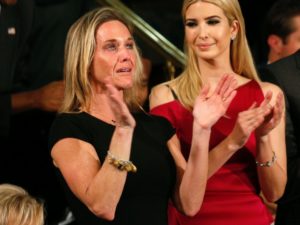 Carry Owens, Ryan Owens' Death, and Donald Trump
Carry Owens' husband, Ryan Owens, was a US Navy SEAL from 1998 to 2017. While at service, Owens was deployed to serve in Afghanistan War and Al-Qaeda Insurgency in Yemen. As of 2009, Ryan was a chief petty officer who got promoted to a senior chief petty officer after his death in 2017. During his time in service, Owens received several medals and honors including Global War on Terrorism Expeditionary Medal, Afghanistan Campaign Medal, National Defense Service Medal, Good Conduct Medal and Joint Meritorious Unit Award.
William Ryan Owens, Carry Owens husband, died on January 29, 2017 during a raid in Al Bayda province of Yemen and became the first soldier to die after Donald Trump took office as Commander-in-Chief. According to a statement released by Commander of Naval Special Warfare Command, Ryan was 'an exceptional SEAL, an experienced warrior and a highly-respected teammate who served silently, nobly and bravely through several combat deployments'.
Along with numerous mourners, Donald Trump and his daughter Ivanka went to Dover Air Force Base to pay their respects. President Trump also expressed his deepest and humble thoughts for the bereaved family of Owens. Likewise, he also remembered the fallen soldier on February 28, 2017 in a Congress joint session. Along with Trump, the House gave Owens a standing ovation. Some people say that was the moment when 'Trump became President'. During the speech, he said, "Ryan's legacy is etched into eternity. For as the Bible teaches us, there is no greater act of love than to lay down one's life for one's friends. Ryan laid down his life for his friends, for his country, and for our freedom — we will never forget him." Carry Owens could be seen streaming down.
Reportedly, Trump invited Owens' father for a meetup. However, he denied the invitation and asked Trump to order an investigation into the death of his son. As Trump refused to order an investigation, Owen's father said, "Don't hide behind my son's death to prevent an investigation."
San Francisco Giants, a baseball team, paid a tribute to Ryan Owens by inviting his family to do the first pitch in 2017 home opener.