Quick Info about Brian Kilmeade
Full Name

Brian Kilmeade

First Name

Brian

Last Name

Kilmeade

Birth Place

New York City
Last updated on June 11th, 2019 at 05:41 am
Brian Kilmeade is weekday's co-host of Fox's Morning shows "Fox & Friends "as well as the host of the Fox News Radio program "Kilmeade and Friends". With his controversial remarks about race and ethnicity, Brian Kilmeade became famous and won several achievements and honors together with considerable fortunes.

In addition to being a full-time anchor, he is also the best-selling author of fiction and non-fiction books.

Early Life

Brian Kilmeade was born in the United States, New York City, on 7 May 1964, in Irish and Italian descent. Together with his siblings Steve Kilmeade and Jim Kilmeade, he was raised here. Although his father's information is hidden, it is well known that his mother is Marie Kilmeade.

Just as his father is only a little known, so there is not much known about his childhood and how he grew up. However, he received his education from the Massapequa High School and later from the Long Island University (LIU Post).

Career

Since we all knew him because of his role in Fox News, he didn't start his career there. It all began with Channel One News, where he worked as a correspondent before he moved to KFTR-DT. He was also a co-host of 'The Jim Brown Show' with XTRA-AM. As he progressed, he joined Jim Brown as an announcer for the 'Ultimate Fighting Championship' (UFC 1) and later worked for UFC 2 and UFC 3, for which he was an announcer.

In addition, Kilmeade has also worked for WVIT, as a freelance sports reporter. One thing many people don't know about him is that he tried to make a career as a stand-up comedian, but it didn't work for him somehow. After working with various media outlets, he joined Fox News in 1997 and soon became a co-host of 'Fox & Friends' which was described as Donald Trump favorite and most watched show. Since the 2000s, this show has been one of the most popular morning shows. He appeared on the radio in a news show called 'The Brian Kilmeade Show.'

More than just a TV and radio show host, he is also a writer who had five books by 2017. 'The Games Do Count': America's Best and Brightest on the Power of Sports was published in 2004 as his first book, followed in 2007 by It's 'How You Play The Game': The Powerful Sports Moments, which taught America's Finest lasting values. In 2013 and 2015, he published more books before his latest book, published with Bon Yaeger in 2017, Andrew Jackson and the 'New Orleans Miracle': The Battle that shaped America's destiny.
Personal life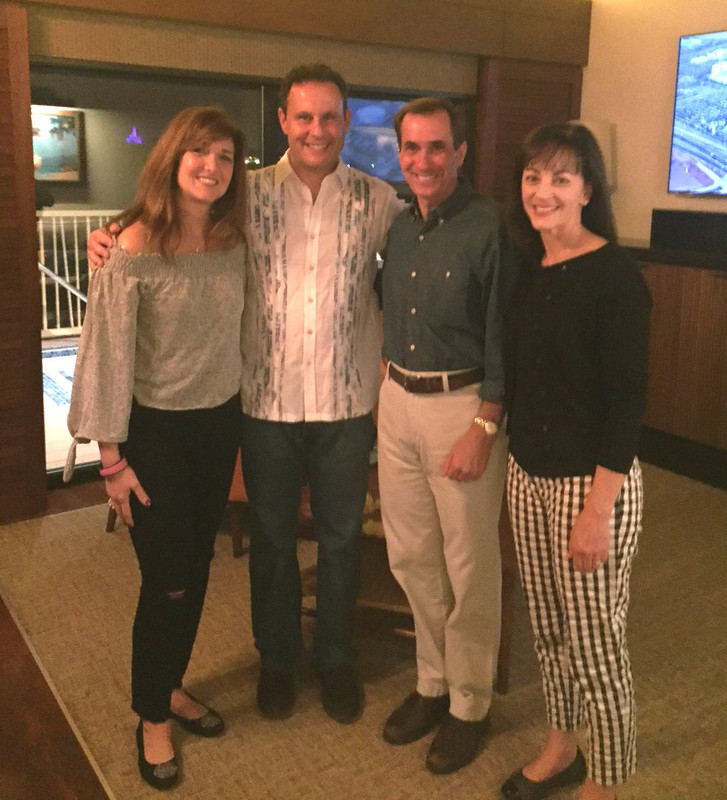 Just as Brian Kilmeade appears to have a great career life, so he also has a great family life. He is married to Dawn Kilmeade, unknown to have dated many women in the past. While there is no information about when or how they met, they have been married since 1993. The couple was blessed with three children; Bryan Kilmeade, Kirstyn Kilmeade, and Kaitlyn Kilmeade. Brian, Dawn Kilmeade, and their children are now living in Massapequa on Long Island, New York.


Net worth

Bryan Kilmeade accumulates his net worth from his professional career as a TV host at Fox News Channel. He has an estimated net worth of 8 million dollars and a basic salary of 4 million dollars per year.
Bryan Kilmeade accumulates his net worth from the professional career as a television host. He has an estimated net value of $8 million with a base salary of $4 million per year.

Latest news/Facts

Sometimes Kilmeade stands out in the crowd with reasonable criticism of the policies of President Donald Trump. On the 17th of January, Fox & Friends hosted a studio audience and asked questions about different themes of the day. On 16 January, four Americans were killed by a suicide bomber in Syria, and ISIS claimed responsibility. But it was Kilmeade who recalled the current state of ISIS saying "clearly they are not dead," which was a rather sharp rebuke to claim that "ISIS is defeated" in a speech made by Vice President Mike Pence in December 2018.