Mazie Hirono is an American Politician. Since 2013, she is serving as the junior United States Senator from Hawaii. She has always been working as an active member of the Democratic Party.
The Early life of Mazie Hirono
Mazie Hirono was born on November 3, 1947. She was born in Fukushima, Japan. Her mother was troubled a lot by her alcoholic husband. As a result, when Mazie Hirono was around 8 years old, they left the country along with her older brother
for Hawaii. Mazie also had a younger brother but he was left behind with their grandparents in Japan. Mazie Hirono did not know how to speak in English. Despite the fact that she did not know how to speak English, she was sent to elementary school. There she found her first job as a student cashier in the lunchroom. Hirono graduated with honors from Kaimuki High School several years later. In 1970, she graduated Phi Beta Kappa as she put her through school to the University of Hawaii at Manoa. In 1978, she graduated as a law student from the law school at Georgetown University.
Mazie Hirono's Career
Mazie Hirono was elected to Hawaii 12th House District in 1980 and was in a multi-member district. She was with Democrat State Representative David Hagino. She won the newly redrawn Hawaii's 32nd House District after redistricting in 1984. Again after redistricting, she ran in the newly redrawn Hawaii 22nd House District in 1992. She ran for Hawaii's 20th House District and won after Hawaii eliminated MMDs and redistricting.
Sen. Mazie Hirono said Brett Kavanaugh revealed he is not able to be a a "nonpartisan" judge through his "bizarre" claim in his testimony last week that he is the victim of a Democratic "conspiracy to do him in." https://t.co/KmGRUOHy89 pic.twitter.com/4oDkU8b61u

— ABC News (@ABC) September 30, 2018
In 1994, before retiring to run for statewide office, she had won the general election. She also served only one term in the 22nd district. Hirono won the three candidates field with 91% of the vote after she was challenged in the Democratic primary. In the Chris Murphy gun control Filibuster in 2016, she had participated. She defeated Republican State Senator Stan Koki in the general elections with a huge difference of 5254 votes. From 1980 to 1994, she passed more than 120 laws while she served in the Hawaii House of Representative. She defeated Republican State Senator Bob Hogue in the general election. There was a huge competition in the Democratic primary. In the September 21 Democratic primary, she defeated Case with a difference of 2613 votes. But after a few weeks, Hirono was defeated by Republican nominee and Mayor of Maui Linda Lingle.
On August 11, 2012, she won the Democratic primary election. The National Rifle Association gave Hirono "F" rating due to her consistent voting record in support of gun control as of 2010. Hirono was president of the National Commission of Teaching during her tenure as lieutenant governor. She was also the president of the Hawaii Policy Group. There was an announcement made by The Senate Democratic Steering Committee on December 12, 2012, that said Hirono would be serving on the Senate Judiciary Committee.
In the Personal Life &
Net Worth of Mazie Hirono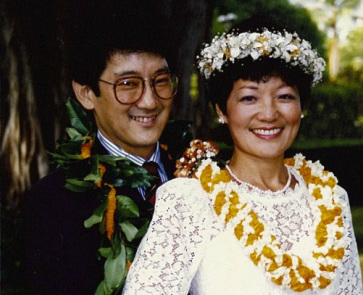 Mazie Hirono is married to Leighton Kim Oshima. She was diagnosed with stage 4 Kidney cancer in May 2017. It had spread to her 7th rib. The cancer was discovered when her chest x-ray was done in April before some minor eye surgery. On May 17, 2017, her right kidney was removed through a surgery. On May 22, 2017, she returned to the Senate.
The estimated net worth of Mazie Hirono is around $4 million. She is a very hard working lady who has made a nice influence in her field.
The Fact is the first day of her career was Saturday.