America Ferrera is a professional actress who has appeared in numerous movies and television shows including End of Watch, Book of Dragons, The Dry Land, Our Family Wedding and How to Train Your Dragon sequel.
Early Life and Education
America Ferrera was born on April 18, 1984 as the youngest child to America Griselda and Carlos Gregorio. Raised in Los Angeles along with five other siblings, Ferrera went to Calabash Street Elementary School for early education. For middle school and high school, America joined George Ellery Hale and El Camino Real. Completing her schooling, Ferrera entered the University of Southern California for undergraduate studies in international relations and theater.
Personal Life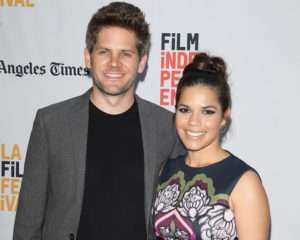 America Ferrera is currently married to her long-time boyfriend Ryan Piers Williams. Ryan is a writer who went to the University of Texas at Austin for an undergraduate degree in film.
Career
America Ferrera kicked off her career into the acting world as Ana Garcia in the 2002 movie Real Women Have Curves. Two years later, she was signed to do the part of Luiza in the short film Darkness Minus Twelve. The following year i.e. in 2005, Ferrera appeared in four different films: How the Garcia Girls Spent Their Summer, The Sisterhood of the Traveling Pants, Lords of Dogtown, and 3:52. Likewise, in 2006, she did the role Amy Barnes in Steel City.
In the second half of the 2000s, America Ferrera appeared in the roles of Martha and Carmen Lowell in Under the Same Moon and The Sisterhood of the Travelling Parts 2. Also, she was the voice behind Fawn in 2008 movie Tinker Bell. In 2010, Ferrera signed three of her most respected works: The Dry Land, Our Family Wedding and How to Train Your Dragon. As the voice of Astrid Hofferson in How to Train Your Dragon, America Ferrera voiced the short film sequels. And, as of 2014, she again gave the voice to Astrid Hofferson in How to Train Your Dragon 2.
In 2016, America Ferrera appeared as Brigida in Special Correspondents. Her voice is set to be dubbed again for How to Train Your Dragon 3.  Besides, Ferrera is currently working on television series DreamWorks Dragons as Astrid Hofferson and Superstore as Amy Dubanowski.
Awards
2002, Sundance Film Festival, Special Jury Prize: Dramatic, Real Women Have Curves
2006, Imagen Award, Best Actress, The Sisterhood of the Traveling Pants
2007, NAACP Image Award, Outstanding Actress in a Comedy Series, Ugly Betty
2007, Primetime Emmy Award, Outstanding Lead Actress in a Comedy Series, Ugly Betty
2007, Golden Globe Award, Best Performance by an Actress in a Television Series – Musical or Comedy, Ugly Betty
2017, Gracie Awards, Actress in a Leading Role – Comedy or Musical, Superstore
Donald Trump and America Ferrera
America Ferrera was a strong supporter of Hillary Clinton in the 2016 Presidential Election. After the election results were out, she posted this photo on her Instagram.
https://www.instagram.com/p/BMnioQiAiW8/?hl=en
She also delivered a speech in Women's March on Washington.
https://www.youtube.com/watch?v=wrQt0J4hWj4