Last updated on April 27th, 2020 at 06:12 pm
Sandra Lee is a television cooking show presenter and the First Lady of the State of New York. She assumed office on January 1, 2011, as her husband Andrew Cuomo succeeded Michelle Paige Paterson as Governor of New York.
Early Life and Education
Sandra Lee was born on July 3, 1966, in Santa Monica, California, and was raised in the same area by her father Wayne and mother Vicky Christiansen. As a child, Lee suffered numerous family tragedies which include two divorces and physical assault.
After she was badly beaten by her mother at the age of 15, she moved to Wisconsin and lived with her father. In the meantime, Lee also joined Onalaska High School and later entered the University of Wisconsin-La Crosse for undergraduate studies. However, she couldn't finish up bachelor's education at that time. Hence, Lee joined Le Cordon Bleu in Canada.
Personal Life
At the age of 15, Sandra Lee had a boyfriend named Duane. In 2001, she went on to marry Bruce Karatz who is a wealthy businessman and philanthropist. Ending the marriage in 2005, she married Andrew Cuomo. She has no children with Cuomo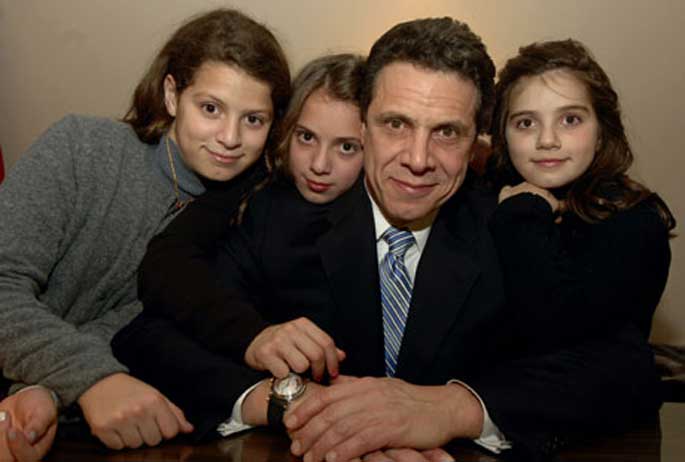 As of 2015, Sandra Lee is a patient of early-stage breast cancer. Reportedly, she has already gone through several treatment therapies including lumpectomy and mastectomy. As of 2016, Lee is supposedly done with her breast surgeries.
Career
In the wake of the 1990s, Sandra Lee designed a decorating tool 'Sandra Lee Kraft Kurtains' which could be used as draperies on the walls and windows. The product gained a huge response from consumers and managed to grab attention from QVC 'Quality Value Convenience' television channel. As a presenter at QVC, Lee sold over $20 million worth of Sandra Lee Kraft Kurtains.
In 2003, Lee entered the television world by premiering on Semi-Homemade Cooking with Sandra Lee show. In the show, she taught different ways to decorate the table depending on the food you prepare. Likewise, Lee also made another series named Sandra's Money Saving Meals which is being aired by Food Network since 2009. As a television presenter, Lee has been awarded Daytime Emmy Award for her show Semi-Homemade Cooking.
Besides, Sandra Lee is a writer who has already launched 25 books that majorly focus on lifestyle and culinary. Cool Kids Cooking (2006) and Made From Scratch (2007) are two of her most famous books. Besides writing, Lee started publishing a lifestyle magazine in 2012. Likewise, she is currently being signed by new producers for different lifestyle television programs.
Donald Trump and Sandra Lee
Although Donald Trump and Sandra Lee haven't commented on each other yet, they have one common thing between them: both are television personalities. Besides, Sandra Lee's husband, Andrew Cuomo, seems quite supportive of Trump so far. He was in Trump Tower discussing Obamacare, infrastructure, and other issues concerning New York with President-elect Donald Trump. As the meeting finished, he happily commented, "Trump knows New York."