Roy Blunt is the incumbent US Senator from Missouri who assumed office on January 3, 2011 as the successor of Kit Bond. Formerly, Blunt was a member of the US House of Representatives from 1997 to 2011.
Early Life and Education
Roy Blunt was born on January 10, 1950 to Leroy Blunt and Neva Dora. Blunt grew up in Niangua, Missouri and later went to Southwest Baptist University for undergraduate studies in history. After college, he joined Missouri State University where he did his post-graduate degree in history.
Personal Life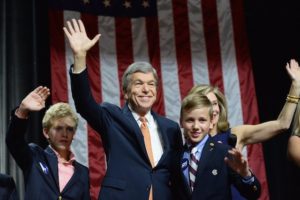 Roy Blunt is currently married to Abigail Perlman Blunt. The couple has been together since 2003 and is raising an adopted child from Russia. Prior to this marriage, Roy was in conjugal relationship with Roseann Ray who he married in 1967. The couple had three children: Matt, Amy and Andrew Blunt. All Blunt children work as lobbyists for different companies.
Career
Roy Blunt entered the word of American politics in 1973 as a county clerk of Greene County in Missouri. Blunt consecutively won three such elections and remained in the position for 12 years. In 1980, he bade for the position of Lieutenant Governor of Missouri but was defeated by Ken Rothman. Then, in 1984, Blunt ran for Missouri Secretary of State and won the election with 54% votes in favour. To follow up, he sought for second term in the office and got re-elected with 61% votes.
In 1996, Roy decided to run for the 7th US Congressional District Election. He saw a landslide victory against Democratic candidate Ruth Bamberger with 64.9% votes in favour. Two years later, Blunt was re-elected with a majority of 72.6%. Likewise, he won the 2000 Congressional Election with 73.9% votes in hand against Charles Christrup. The winning streak continued in 2002, 2004, 2006 and 2008 as well. In 2008, Blunt was the clear winner with 67.8% votes. The second-standing candidate Richard Monroe was at 28.2% votes.
As a member of the House, Roy worked in the following committees: House International Relations Committee, House Committee on Agriculture, and House Transportation Committee. Also, he served as House Minority Whip (2007 – 2009), House Majority Whip (2003 – 2007) and House Majority Leader (2005 – 2006). Following a long career in the House, Roy decided to run for the US Senate in 2010. He gained the Republican nomination with 70.9% votes and faced Democratic nominee Robin Carnahan in the Senate Election. Roy won the election with 54.2% votes. He was re-elected in 2016 after a tight run against Democrat Jason Kander.
While at the Senate, Roy worked under the following committees:
Committee on Appropriations
Committee on Commerce, Science and Transportation
Committee on Rules and Administration
Select Committee on Intelligence
As a matter of fact, Blunt was Chair of the Senate Rule Committee from January 3, 2015 to January 3, 2017. Besides, he has been one of the sponsors for the Death Tax Repeal Act 2013 and outspokenly supported holding guns without any extended background checks. Likewise, in 2011, he called for an amendment in Obamacare which, if passed, would have allowed doctors and nurses to refuse services if it contradicts their religious principles.
Donald Trump and Roy Blunt
Roy Blunt is one of the few supporters of Donald Trump's travel ban on seven Muslim countries in the Middle East. As per the press conference, Blunt praised Trump for doing what he what 'he told the American people he would do'. He also gave a brief speech on Inauguration Day 2017.