Last updated on June 7th, 2018 at 01:52 pm
Ryan was born on 24 December 1974 in Atlanta Georgia to Constance Marie and Gary Lee Seacrest. He attended Dunwoody High School and went to the University of Georgia to study journalism. In his early days, Seacrest grew up listening to DJs like Casey Kasem and Rick Dees. He was also influenced by American Bandstand host Dick Clark. In order to pursue his career in broadcasting, he dropped out of university and moved to Los Angeles.
Ryan Seacrest's career:
Seacrest got breakthrough in his career when he was 16 years old still in high school, got an internship at WSTR(F.M) in Atlanta. He worked in the radio station until he left for Los Angeles.
Seacrest's first major job:
In 1993 Seacrest started "Ryan Seacrest for the Ride Home" an afternoon radio show. The show became popular and it lasted till 2004.
Television career:
In 1993, Seacrest hosted the first season of ESPN's "Radical Outdoor Challenge" which was his first major television appearance.
These are the TV shows Seacrest hosted before joining the American Idol:
-Gladiators 2000 from 1994 to 1996
– Wild animal games in 1995
– Click in 1997
– Lover's Lane
-NBC Saturday Night Movie in 2000
-Ultimate Revenge from 2001 to 2003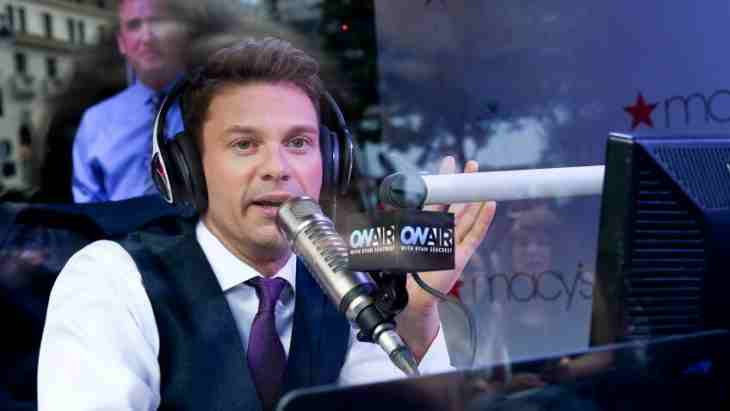 American Idol and Afterwards:
In 2003, Seacrest co-hosted the very first season of American Idol with comedian Brian Dunkleman. He became the solo host of the music reality TV show from the second season until the show ended in 2016. The second season was seen by 26 million viewers per week. The popularity of American Idol made Seacrest household name.
In 2005 he became executive producer and co-host of ABC's Dick Clark's New Year's Rockin' Eve.
He also hosted Larry King Live! a few times as a substitute host.
Seacrest is the host of "Knock Knock Live!". It premiered on Fox on 21st July 2015.
He is co-host of "Live with Kelly and Ryan" joining her in May 2017.
Seacrest is the managing editor of E! News and produces its red carpet awards show coverage.
Returning to radio:
In 2003, Seacrest started a new radio program "On Air with Ryan Seacrest" which airs till this date. The next year he became the host of "American Top 40" which was created and hosted by his idol Casey Kasem.
Seacrest has been equally successful in both radio and television and despite being a television star and producers of numerous shows he continues to be in radio.
Did he win any awards?
Yes, he did. He won an Emmy for producing Jamie Oliver's Food Revolution.
How rich is Ryan Seacrest?
Seacrest's net worth is supposed to be $380 million. According to Forbes, he earned $58 million in 2017 making him one of the highest earning celeb of that year. He produces eight different TV shows which include the highly successful Keeping Up with the Kardashians and its spinoffs. Seacrest is the executive producer of KUWTK since 2007.
In 2009, Seacrest signed a deal for $45 million to continue to host American Idol, making him the highest paid reality television host to date. In 2012, he signed a two-year, $30 million deal to stay on as host of American Idol.
His cars collection include Bentley Flying Spur, a Range Rover, an Aston Martin DB9, and S –class.
He resides in his Beverly Hills House. The house costs around $50 million which was previously owned by Ellen DeGeneres in 2012.