Last updated on June 10th, 2018 at 08:41 am
Michael Temer is the incumbent President of Brazil who took office after the impeachment of former president Dilma Rousseff on the allegations of corruption. Temer was sworn into the office on 31st August 2016. Prior to the promotion, Temer was the vice president of Brazil, working alongside Dilma Rousseff.
Early Life and Education
Now 76 years old, Michael Temer was born on 23 September 1940 to father Miguel Temer and mother March Lulia. Hailing from Lebanese descent family, Temer is an intermediate in the Arabic Language.
While at an early period of his education, Temer was whimsical about his aim. First, he wanted to be a pianist and then a writer. However, he went to study law at the University of Sao Paulo. Subsequently, Temer went on to earn a doctorate in public law from Pontifical Catholic University. These credentials pushed him into the world of law and politics.
Personal Life
Michael Temer is married to Marcela Temer. The couple married in 2003 and has a child together. Interestingly, Marcela is 43 years younger than Michael. Still, the love between the couple is boundless; Marcela even has Michael's name tattooed on her neck.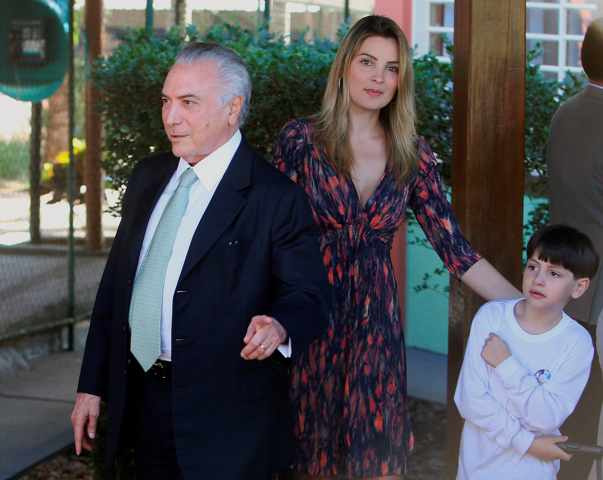 Career
Primarily, Michael Temer worked as a lecturer at PUC-SP. As an expert in constitutional and public law, Temer has published numerous works. His book Elements of Constitutional Law is famous all around the world and has sold 240,000 plus copies. Likewise, he published Anonymous Intimacy and Democracy and Citizenship in 2006 and 2013 respectively.
Politics
Temer commenced his journey in Brazilian politics by serving in the Chamber of Deputies in 1987. He consecutively served six terms in the office from starting in 1987. Temer was the President of the Chamber for three terms: first in 1997-1998, second in 1999-2000 and third in 2009-2010.
Having served the Brazilian society alongside Dilma Rousseff, Temer played a crucial role to overthrow her. Personally, he had never been happy about the sense of superiority Rousseff had as opposed to him. He felt as if he was just a 'decorative' vice president during Dilma's administration. While the full information about Temer's involvement still remains covert, one of his leaked audio files clarified that Temer was heavily anticipating the impeachment.
Following Dilma Rousseff's official impeachment on 12 May 2016, Michael Temer constitutionally became the acting president. On the very first day of presidency, Temer made his own cabinet and reduced number of ministries by 9 – from 31 to 22. As Rousseff was decided to be removed from the office on 31st August, Temer formally became her successor.
So far, Temer has been taken as a leader who might be the savior of slumping Brazilian economy. In contrary, he has already been accused of corruption for pressuring Marcelo Calero to authorize construction stemmed by heritage preservation measures. So, few Brazilian leaders are calling for an impeachment. However, the world is yet to see his productiveness until the end of his term on January 1, 2019.
Trump and Temer
Instead of giving a congratulatory call to President Trump, Temer sent a telegram. However, Temer called Trump in mid-December after arising vested interests which could increase business opportunities if Trump rewrites Mexico trade deals. He agreed to work with President Trump to further strengthen relations between the two large and significant trading economies in the world.