Quick Info about Mark Thomas Esper
Full Name

Mark Thomas Esper

First Name

Mark

Middle Name

Thomas

Last Name

Esper

Born Name

Mark Thomas Esper

Birth date

26/04/2964

Birth Place

America

Nationality

American

Ethnicity

White

Profession

Army

Wife

Leah Esper

Net Worth

$5 million

Age

55

Children

Kate, John, and Luke Esper
Last updated on February 25th, 2020 at 05:00 am
Mark Thomas Esper is a former American executive and Army veteran who serves as the Secretary of Defense of the United States. From 2017 to 2019, he served as the 23rd U.S. Army Secretary.
Early Life of Mark Esper
Mark Thomas Esper was born on April 26, 1964. He is an American politician and corporate executive who was named to become acting US Secretary of Defense by US President Donald Trump on June 18, 2019.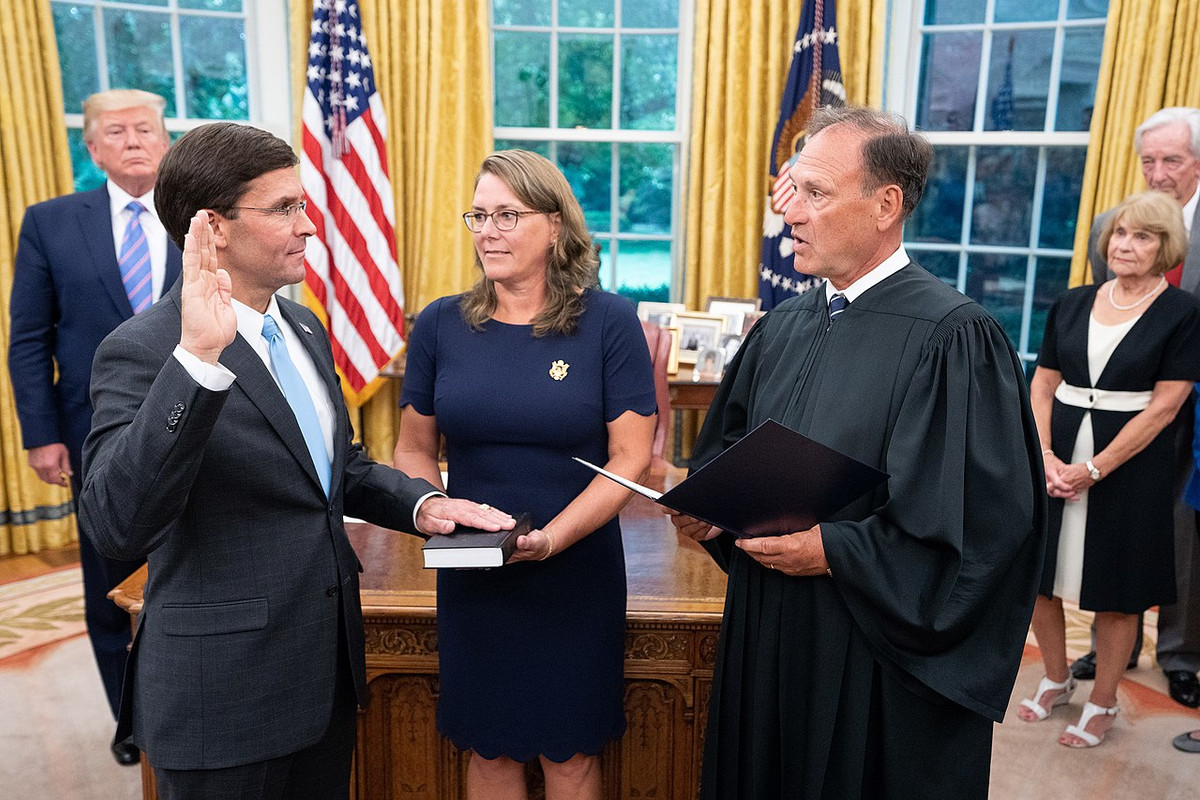 In 1982 Esper graduated from Laurel Highlands High School and later in 1986 he graduated from the United States Military Academy with a Bachelor of Science in Engineering. Esper was a West Point dean's list student and a recipient of the Douglas MacArthur Leadership Award. He completed his Master's degree in Public Administration, from the John F. Kennedy School of Government in 1995. And a Ph.D. in Philosophy from George Washington University in 2008.
Mark Esper's Career
Esper served with the 101st Airborne Division as an infantry officer and deployed for the 1990–91 Gulf War with the "Screaming Eagles." His battalion belonged to the renowned "left hook" that led to the Iraqi Army's defeat. Esper was awarded a Bronze Star for his actions, the Combat Infantryman's Badge, and various service medals and served as an army fellow at the Pentagon. He later led an Airborne Rifle Company in Europe. Esper was an inactive duty for more than ten years before moving to the National Guard of the District of Columbia Army and later to the Army Reserve as a lieutenant colonel. Esper is a recipient of the Distinguished Public Service Department of Defense Medal. The Legion of Merit, the Bronze Star Medal, the Kuwait Liberation Medal, Saudi Arabia, and the Combat Infantryman Badge are among his military awards and decorations.
Sgt. 1st Class Norm Brooks of the 131st Aviation Regiment helps prepare Secretary of the Army Mark Esper for aerial gunnery training at Camp Shelby Joint Forces Training Center Aug. 2, 2018. pic.twitter.com/q50VrtpASK

— MS National Guard (@nationalguardMS) August 3, 2018
From 1996 to 1998, Esper was chief of staff at the Heritage Foundation, a conservative think tank, and from 1998 to 2002. He served as senior professional staff for the Senate Committee on Foreign Relations and the Senate Committee on Governmental Affairs. Esper also served as a senior strategy advisor and legislative director for U.S. Senator Chuck Hagel. From 2001 to 2002, he served as policy director for the House Armed Services Committee. From 2002 to 2004, Esper served as deputy assistant secretary of defense for negotiating strategy in the George W. Bush administration, where he was accountable for a wide spectrum of problems related to non-proliferation, arms control, and international security. He was the U.S. National Security affairs director. Senate Bill Frist, leader of the Senate majority, from 2004 to 2006.
Mark Esper's Net worth
According to the source, Esper's net worth is estimated to be around $5 million. It is presumed that he made $1 million from Raytheon's deferred compensation plan. Besides it, he has more than $1 million in mutual and bond funds. He along with his wife co-owns West Virginia property with another couple.
Mark Esper Wife
Esper has been married for nearly three decades to his wife Leah Esper. They have three children Kate, John, and Luke Esper. All of his children are grown up. The matter of fact is Leah gave birth to their first child in an army hospital. It was the time when Mark was commanding an airborne rifle company.
Mark Esper Facts
After working at Major Defense Contractor Raytheon, Esper was appointed by Trump to run the army.
Esper was an official at the Foundation for the Conservative Heritage.
He has worked for numerous committees of the Republican Congress.
Esper is a decorated veteran of the army who served in the Gulf War.