Richard Joseph "Dick" Durbin is the incumbent US Senator from the State of Illinois. He assumed office on January 3, 1997, as the successor of Paul Simon. Formerly, Durbin was a member of the US House of Representatives from Illinois' 20th District from 1983 to 1997. Currently, he is serving as the senior United States Senator from Illinois.
Early Life and Education
Dick Durbin was born on November 21, 1944, as the son of William and Ana Durbin. He was raised in East St. Louis of Illinois and attended Assumption High School. Completing high school, Durbin joined Georgetown University for an undergraduate degree in foreign service. Later, he entered Law Centre in the same university for a Juris Doctorate degree.
Personal Life
Dick Durbin is married to his wife Loretta Schaefer since 1967 with three children: Christine, Jennifer, and Paul Durbin. Durbin's wife Schaefer is a lobbyist. Durbin was originally a Roman Catholic.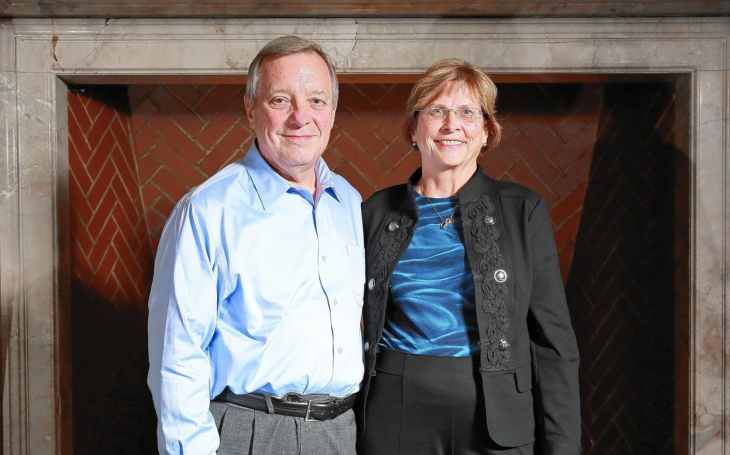 Career
Graduating from the law school, Dick Durbin became a legal counsel to Lieutenant Governor Paul Simon for three years. Then, he joined Illinois State Senate Judiciary Committee in the same position. In 1982, Durbin left the office to focus on his congressional election. As of the 1982 Illinois' 20th Congressional Election, Dick was a clear winner after a tight race with incumbent Congressman Paul Findley. Durbin won his first election with 50.4% votes.
In 1984, Durbin won himself a second term in the office by defeating Richard Austin with 61.3% votes. Likewise, he won the 1986 election with 68.1% votes as opposed to Kevin McCarthy's 31.9% votes. To follow up, Durbin sought four more terms in the office and won each of them. In 1998 and 1990, he defeated Paul Jurgens with 68.9% and 66.2% votes respectively. Similarly, as of 1994, Durbin had a rather tight race with Bill Owens but beat him with 54.8% votes.
Wrapping up the career in US House of Representatives, Dick Durbin ran for Senatorial Election in 1996. He defeated Al Slavi by receiving 56% votes. Likewise, in 2002, he faced Jim Durkin and Libertarian candidate Steven Burgauer. The election was an easy win for Durbin as he had 60% favorable votes. In 2008 and 2014, Dick Durbin retained his position in the US Senate by winning 68% and 53.5% votes against Steve Sauerberg and Jim Oberweis respectively. As a member of the Senate, Dick has already represented the Democratic party in the following committees and caucuses:
Committee on Appropriations
Committee on the Judiciary
Committee on Rules and Administration
Bi-Cameral High-Speed & Intercity Passenger Rail Caucus
International Conservation Caucus
Senate Hunger Caucus (Co-Chair)
Senate Science, Technology, Engineering, and Math Education Caucus (Co-Chair)
Sportsmen's Caucus
Besides, Durbin is the current Senate Minority Whip. From 2007 to 2015, he was Senate Majority Whip. As a prominent member of the US Senate, Dick Durbin has been critical of any political and economic problems inside the country. In regard to the 2008 Financial Crisis, Durbin believes it was the fault of the big banks. He was one of the major leaders involved in helping out banks during the credit crunch. Likewise, Durbin is an outspoken critique of using enhanced interrogation techniques in Guantanamo Bay and many other penitentiaries. As of 2005, he compared those techniques to the methods of Nazi Germany and Soviet Union.
Donald Trump and Dick Durbin
Dick Durbin is a major critic of Donald Trump's executive order on travel ban and immigration. According to the press release, Durbin said that Trump's order could inflict pain on the innocent families and exert unnecessary pressure on taxpayers. He also said that such order might make less safe – a consequence just opposite as intended.