Last updated on June 29th, 2018 at 07:50 am
Aubrey O'Day is an American singer, model, songwriter, actress and also a fashion designer. She is famous for her debut album Danity Kane which was released in 2006 under the band Danity Kane. She has made an appearance on several reality TV shows including the fifth season of Donald Trump's Celebrity Apprentice, Famously Single on the E! Network.
The early life of Aubrey O'Day:
Aubrey Morgan O'Day is popularly known as Aubrey O'Day. She was born on February 11, 1984,  in San Francisco, California, USA to the father Rico O'Day and mother Kandy Allen. Besides her parents, she also has a sister Shannon. Talking about her educational background, she graduated from La Quinta High School and did a double major in Political Science and Drama at the University of California Irvine. She started performing from the age of five and was seen in the supporting role in several different music creations like Dorothy in the World of Wizard of O2 musical production, Carmen in fame, Sandy is Grease production, etc.
The career of Aubrey O'Day:
Aubrey started her career from 2004 where she acted on the MTV reality show titled 'Making the Band 3' by Sean Combs. In 2006, she started her career in the music industry by releasing her first debut music album, Danity Kane. She is also one of the members of the girl pop band, Danity Kane. In 2008, she played the lead role of Amber von Tussle in Broadway musical Hairspray. She also appeared in the comedy movie 'American High School' in 2009. She was also associated with several reality TV shows, including season 5 of Donald Trump's Celebrity Apprentice, Famously Single on the E! Network and placed fifth on Celebrity Big Brother 18. She did some modeling too and posed for Blender and Playboy.
Aubrey was active in theatre acting as well. She did theatre acting in Broadway and Hairspray. Aubrey started working on a solo music and recorded a re-mastered version of Sharam's remix hit labeled as 'Party All the Time'. She also launched a track labeled as 'Never fallin'. She released her self-released single 'Wrecking Ball' in 2012 which was sold more than 2500 downloads in the first week. In 2008, she was placed number 86 on Maxim's Hot 100 list and number 81 on Blender's 100 Hottest People list. In 2015, Aubrey and Shannon Bex announced their duo music project, Dumblonde with the same manager of Danity Kane. She is also an activist and has worked with several service organizations while traveling in various countries as well as refugee centers, orphanages, and children with AIDS. Aubrey's debut 'Automatic' was released in 2011.
The net worth of Aubrey O'Day:
The estimated net worth of Aubrey is $4 million.
Personal life of Aubrey O'Day: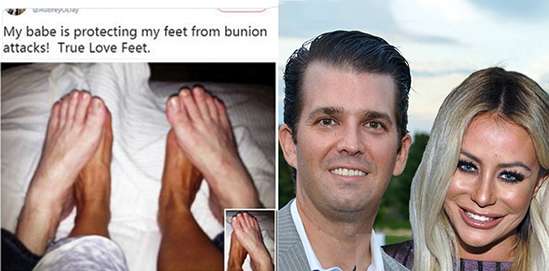 The rumors regarding Aubrey is Lesbian or homosexual are many but she never confirmed nor denied her sexuality. She was in a relationship with DJ Cassidy in 2007 but as soon as their breakup, in 2008 she started dating Evan Ross. She then dated Courtenay Semel, Jenna Jameson, and Quddus in the same year 2008. Aubrey also dated Dannie J. between 2009 and
2010. Besides these all, she dated Dannie Walberg. In 2015, she started dating Paul Pauly D'Del Vecchio. It has also found that Donald Trump Jr. and Aubrey were in a relationship which leads to the divorce between Donald Trump Jr. and his wife, Vanessa Haydon. O'day wanted to show that Trump Jr. was breaking with his wife in a video (not released publicly). Digging the case, the story came up with facts that he was staying separately a few times back before the patch up between them rebounded. After having numerous relationship, she is now single.
to my fellow single souls this Valentine's Day.. give yourself everything you want, fill your… https://t.co/tGA2Bkl5Zl

— Aubrey O'Day (@AubreyODay) February 14, 2018