Seth Meyers is a professional comedian and an actor. He is currently the host of NBC's Late Night Show with Seth Meyers. Previously, he worked in the Saturday Night Live show as a writer and host of one of its segments, Weekend Update.
Early Life and Education
Seth Meyers was born on December 28, 1973 to gather Laurence and mother Hilary. Brought up in Okemos, Michigan, Meyers went to Edgewood Elementary for early education. Later, he joined Manchester High School West.
Graduating from Manchester, Seth Meyers joined Northwestern University.
Personal Life
Seth Meyers is married to Alexi Ashe since July 2013. The couple stayed together for five years prior to their marriage. Currently, the couple has a son named Ashe Olson Meyers. He was born on 27 March 2017.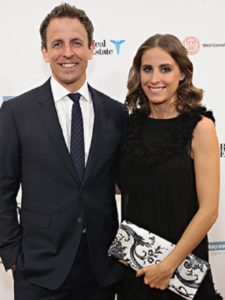 Meyers likes sports. He is a Dutch National Football Team fan who also supports West Ham United in the English Premier League. Meyers likes Pittsburgh Pirates in Major League Baseball.
Career
Like many other comedians, Seth Meyers got his start as an improv comedian during the college years. After college as well, he continued with the ImprovOlympic. In 2001, he joined the Saturday Night Live. By 2014, he had become a head writer for its comedy show and was hosting the Saturday Night Live Weekend Update Thursday between 2008 and 2012. On May 12, 2013, Seth Meyers signed a contract with NBC as the host of Late Night Show. Succeeding Jimmy Fallon, Seth Meyers assumed his new lucrative position on February 24, 2014.
https://www.youtube.com/watch?v=rPQZEqRsTAc
Besides Late Night Show, Seth Meyers has engaged himself in numerous television shows. In 2010 and 2011, he hosted the ESPY Awards. Likewise, in 2014, he hosted 66th Primetime Emmy Awards. The following year, Meyers was the host of the 4th Annual NFL Honours. Beside television shows, Seth Meyers has also done a lot of films. In 2008, he appeared as Professor Alan Kitzens in Journey to the Center of the Earth and as the Drunk guy in Nick and Norah's Infinite Playlist. Similarly, Seth Meyers also made a brief appearance in the 2014 movie The Interview.
Awards
Writers Guild of America Award for Comedy/Variety, 2009
Primetime Emmy Award for Outstanding Original Music and Lyrics, 2011
Writers Guild of America Award for Comedy/Variety (Music, Awards, Tributes) – Specials, 2015
Writers Guild of America Award for Comedy/Variety – Sketch Series, 2017