Last updated on April 24th, 2020 at 02:54 pm
Yumi Hogan is the current First Lady of Maryland. She has been in the office since her husband Larry Hogan succeeded Katie O' Malley as Governor of Maryland. Yumi is South Korean by birth and an artist by profession.
Early Life and Education
Yumi Hogan was born on December 25, 1959, to South Korean parents in Naju, South Jeolla Province, South Korea. Raised up with seven other siblings on a farm in the outskirts of Seoul, Hogan left South Korea in the early 1970s and moved to the United States. The information on Hogan's formal early education is not available in the media.
Yumi completed her undergraduate education in fine arts from Maryland Institute College of Art in 2008 and joined American University for a post-graduate degree.
Personal Life
While in her 20s, Yumi Hogan moved to the United States with her South Korean husband. The couple lived in Hawaii for a few months and moved to Texas. Subsequently, they went to California and got divorced within a few years' time. Hence, Hogan decided to get far away i.e. to her final destination, Howard County, Maryland.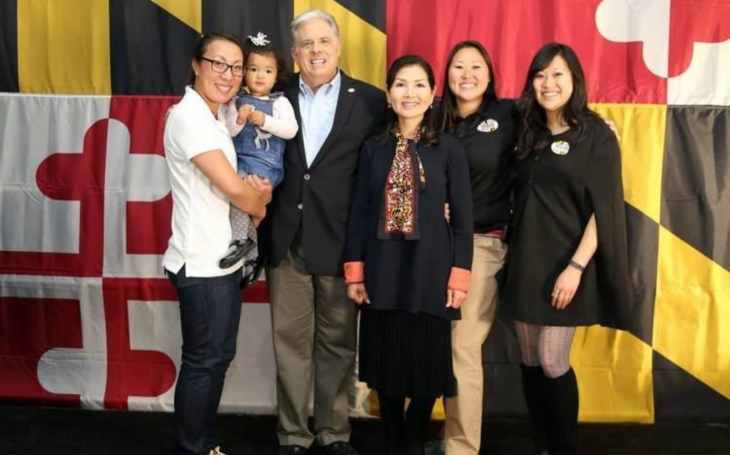 12 years ago, 45-year-old Yumi Hogan married Larry Hogan in 2004. The couple hasn't had any children together, but Yumi does have three daughters – Kim Velez, Jaymi Sterling, and Julie Kim – from her previous marriage.
Career
After giving birth to three children, the Hogan couple went through a tragic divorce. As a single mother, Hogan had to work long hours to provide for her children. Primarily, she became a cashier and, at some point, also worked as a coaching teacher.
Yumi Hogan was always passionate about art. As she became a lawful citizen of the United States in 1994, she started exposing her artistic talents to the community. As an abstract landscape artist, specializing in Sumi ink on Korean Hanji paper, Hogan quickly gained fame in the world of arts. At an exhibition in Columbia in 2001, she met her future husband Larry Hogan.
As Hogan graduated from the American University in 2010, she joined her alma mater Maryland Institute College of Art as an adjunct professor. Besides, as First Lady and a lover of art, Yumi is trying to raise awareness about the importance and love of art in Maryland. Likewise, she also supports cancer awareness organizations, children-oriented programs, and families. Interestingly, Hogan has been advocating for art therapy as well.
Donald Trump and Yumi Hogan
Yumi Hogan may not be a very happy woman when it comes to Donald Trump's stands on immigrants. Although Hogan is not in any way an illegal immigrant, she might still feel hurt by President Trump's remarks. In the same way, Yumi's husband and Governor Larry Hogan also oppose Donald Trump on various points. He endorsed Chris Christie in the 2016 Republican Primary Election.
She closes a deal with South Korea for COVID-19 tests:
As Yumi Hogan is a popular South Korean-American politician. Currently, she has been serving as the First Lady of Maryland since January 21, 2015. It was when her husband, Larry Hogan was appointed the new governor of Maryland.
On Saturday, First Lady Yumi Hogan and I stood on the tarmac at @BWI_Airport to welcome the first ever Korean Air passenger plane, carrying a very important payload of LabGun #COVID19 test kits which will give MD the capability of performing half a million coronavirus tests. pic.twitter.com/Elf0ADIRnJ

— Governor Larry Hogan (@GovLarryHogan) April 20, 2020
According to a recent interview of Larry Hogan, it was because of Yumi Hogan that Maryland was able to receive nearly half a million coronavirus test kits. She used her native language to make the deal done from South Korea. Larry Hogan has fully given credit to his wife for this remarkable contribution. It is also believed that her effort will make Maryland better in the long-term even after the coronavirus crisis ends. However, the president of the USA, Donald Trump wasn't happy at all with such a decision. He attacked Larry even though he had followed Trump's advice regarding COVID-19 testing.