Alicia Keys is a well-known American singer who has sold over 35 million albums and 30 million singles. Some of her renowned songs are If I Ain't Got You (2003), Girl on Fire – Inferno Version (2012) and Fallin' (2001).
Early Life and Education
Alicia Keys was born on January 25, 1981 as the daughter of actress mother Teresa and flight attendant father Craig. Raised in Manhattan, New York City, Alicia went to Professional Performing Arts School since she was a little girl of 12.
Graduating from Arts School, Alicia Keys entered prestigious Columbia University. As she was already involved in her musical career, Keys couldn't manage time between undergraduate studies and music. Hence, after a month at Columbia, Keys dropped out and fully concentrated on music.
Personal Life
Alicia Keys is currently married to rapper Swizz Beatz whose real name is Kasseem Dean. The couple got engaged in May 2010 and carried out their wedding in July. Three months later, the Keys couple gave birth to a baby son and named him Egypt Daoud Dean.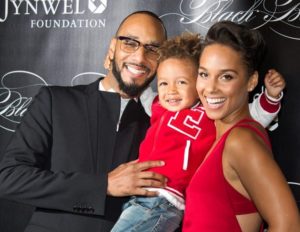 In December 2014, Alicia brought another son, Genesis Ali Dean, into the world.
Career
Dropping out of Columbia University, Alicia Keys commenced her musical career. In 2001, she released her debut album which consisted of 4 songs. Following the success of the album, Keys went out for Songs in a Minot Tour. Subsequently, on December 1, 2003, she released The Diary of Alicia Keys which sold around 618k copies in a week. This album also consisted of four songs which were highly reviewed and loved.
After releasing The Diary of Alicia Keys, Alicia joined The Verizon Ladies First Tour in 2004. To follow up, she made a successful Diary Tour in 2005. In 2007, Keys recorded another album, As I Am, and released it on November 9, 2007 which sold over 0.7 million copies in its opening week. This success called for a tour in 2008. A year later, Alicia worked on The Element of Freedom which sold just around 417k copies in its first week. This was indeed a major setback on Alicia's musical career. Likewise, another setback hit Alicia Keys after being able to sell only around 250k fewer albums in the first week of Girl on Fire (2012). In 2016, Alicia released Here which has two songs which have been poorly rated by Metacritic and AnyDecentMusic?.
Despite falling success in music, Alicia Keys hasn't stopped touring. In 2018, she is set to do Here World Tour. Besides music, she is involved in advertisements. In 2005, she did the commercial for Proactiv and, in 2015, she worked for Levi's. Alicia is estimated to be worth around $130 million.
Donald Trump and Alicia Keys confrontation
Alicia Keys is one of the celebrities involved in Women's March on Washington. She delivered a speech during the event.
https://www.youtube.com/watch?v=x9QL227vb3U
In October 2016, while at a performance in Times Square, she mumbled, "Donald Trump, whose name rhymes with scum, has the nerve to talk about grabbing pussy? You know what I have to say to that?" Then she stood up and gestured an 'F*** You' with her middle finger.