Drinking alcoholic beverages from time to time after a hard day at work does not have to be a sign of dependence on alcohol; However, it is possible that this type of routine habits become a problem.
Although it seems that people are now more aware about the problems of alcohol consumption, there are still many people who drink large amounts of alcohol on a regular basis . According to data from the Spanish Observatory on Drugs and Drug Addiction, 10% of Spaniards drink daily, especially men in the 45-64 age group, as Verne reports .
And what are the signs that we are getting out of hand?
"There are several questions you should ask yourself – or perhaps a loved one – if you think there may be a problem with alcohol," Dr. Paul McLaren, a psychiatrist at Priory's Fenchurch Street Wellbeing Center in London , tells HuffPost UK .
"To begin with, we have to ask ourselves what relationship we have with alcohol. And we must avoid asking extreme questions like 'Do I have a problem with the drink or not?', 'Am I an alcoholic?' Or 'Do I have physical dependence?' "Alcohol has the ability to be toxic to the wearer and can be toxic in a different way for each person. Understanding how alcohol influences personality, coping strategies, and physiology is as important as knowing What quantity is recommended so that there is no problem ".
According to the doctor, there are a few questions each one can ask to be aware of their relationship with alcohol. For example:
:: How important is drinking for you? 
:: Do you give priority to other activities?
:: Does drinking a drink influence what you do throughout the day? 
:: Determines the way you travel? 
:: Does it influence how and with whom you spend your free time? 
:: Does it influence how you spend your vacation? 
:: Do you give priority to alcohol when it comes to spending money? 
:: Do you make plans considering hangovers?
"If the answers to these questions are affirmative, you can say that alcohol is important to you and that it is not enough to give a couple of laps to the matter and think a plan of action," he adds.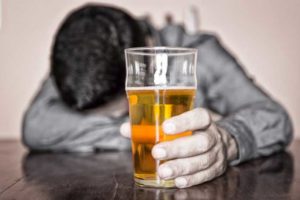 These are some signs that indicate that there is dependence on alcohol:
Difficulty to enjoy alone or to relax without having a drink.
Drink more than 14 drinks a week.That is, a bottle and a half of a wine with an alcohol content of 11%, a bottle and a third of a wine with 14% alcohol or six to eight cans, depending on the graduation, of blond beer.
Worry about where you will be able to get the next drink and organize plans with friends, family or co-workers around alcohol.
Feel an imperious need to drink and have difficulty stopping when you start.
Wake up and have a need to drink alcohol in the morning.
Wake up and not remember what happened the night before because you drank too much.
Experiencing anxiety, depression or suicidal thoughts related to alcohol.
Have side effects such as sweating, nausea or tremors that stop when you drink alcohol.
Let other people express your concern about your drinking.
Hide alcohol to people who care about you.
Take risks, such as driving after drinking.
Drink alcohol at mealtime and then return to work.
Eat gum or use some method to hide the smell of alcohol.
Addiction therapist at Priory Hospital in Altrincham (England), Claire Rimmer, points out that people who are able to manage their day to day lives in a normal way can also be victims of alcoholism.
"It's no wonder if our savings or our ability to perform everyday tasks are being affected by the amount of alcohol we consume." It is also useful that we get questions like, 'Have you medical with a drink when you have problems at home, with friends or at work? Do you lie about how much alcohol you drink or hide bottles or cans of alcoholic beverages? "He adds.
Where to seek help
First, Rimmer recommends admitting that there is a problem and being honest with friends and family.
Second, let us commit to reducing alcohol intake or leaving it altogether. "You have to set daily goals," he advises. "You have to decide how many drinks you put the limit and not exceed it. If our goal is to leave the alcohol completely, set a realistic date to leave the alcohol at all."
It is also important to avoid temptations and negative influences and "accept that it will be difficult and prepare to change."
If you do not think you have a drinking problem, but would like to reduce alcohol consumption, the Drink Aware charity recommends doing more alcohol-free activities or trying out new relaxation methods.
If you still want to go out and drink alcohol, opt for the softer drinks, those with less alcohol percentage or smaller sizes; Avoid asking for rounds in social situations and alternates alcoholic drinks with soft drinks or water.